This book is as much about Ironwood as it is about the women who lived and died there. Luczak includes many details about its geography and history; so much so, that I want to know how much of the setting is "real"–instead I went and looked up the Wikipedia article about Ironwood to compare. Set over most if its 130-year history, these stories retell Ironwood's founding after the discovery of nearby lodes of iron ore, its expansion due to an influx of numerous immigrant communities, its booming heyday during the two World Wars, and eventual decline. "Yoopers" (for non-Midwesterners, this term describes inhabitants of the U. P. [Upper Peninsula] of Michigan) is a delightful story about acknowledging the unique qualities of where you grew up, whether you celebrate them or not.
If being unable to tell your story is a living death (if not a literal one) as Rebecca Solnit states in the book's epigraph, then these stories are affirmations of these women's lives and choices, regardless of the circumstances they had to withstand, or the mistakes they made.
Two of my favorites imagine lost glimpses into small-town life at the beginning of the twentieth century, which are also glimpses into lost LGBT history. "The Ways of Men" re-creates the life of a transman who leaves his privileged life in Detroit for the relative anonymity of Ironwood; according to Luczak, it is based on a true story (although most of it has been lost to time). "Beginnings" is the poignant story about a marriage of convenience between two teachers—and when it suddenly becomes inconvenient.
Read the full review on the Out In Print Blog
Raymond Luczak grew up in Ironwood and Houghton, Michigan. He is the author and editor of 24 books, including Flannelwood (Red Hen Press), The Kinda Fella I Am (Reclamation Press), and the award-winning Men with Their Hands (Queer Mojo). His next title will be Once Upon a Twin (Gallaudet University Press). A ten-time Pushcart Prize nominee and an inaugural Zoeglossia Fellow, he lives in Minneapolis, Minnesota.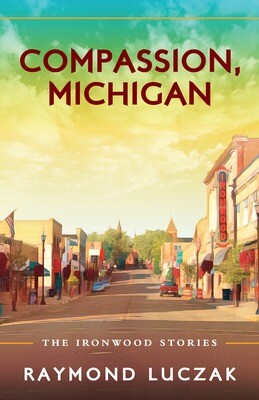 Compassion, Michigan [HC]
Compassion, Michigan [HC]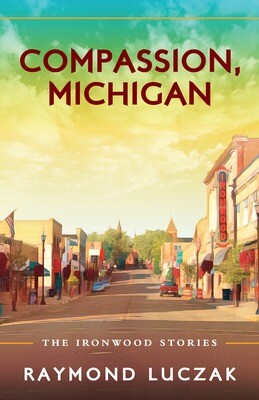 Compassion, Michigan [PB]
Compassion, Michigan [PB]