Honor the Earth: Indigenous Response to Environmental Degradation in the Great Lakes edited by Phil Bellfy.
Review by Tom Powers, Michigan In Books
This book of updated essays grew out of an environmental conference at MSU on Earth Day, 2007. The essays, as the subtitle suggests, are responses by Native Americans to the miserable record of pollution, overconsumption of natural resources, and the all too evident triumph of greed over maintaining a livable environment in the Great Lakes and the world. Readers should not be put off by what appears, at first glance, to be a book intended for a scholarly audience. Yes, the format, extended bibliographies, and chapter headings such as, "Grassroots Indigenous Epistemologies: Native, Non-Governmental Organizations, and the Environment," are a little off-putting. Don't be.
At the heart of most of the essays is the difference between Indigenous Peoples' attitude to the earth and environment which is best summarized by living in balance with nature as opposed to modern society's exploitation of the environment.  The essays address a wide range of environmental concerns and the writing is often sharp, critical and outraged. One essay I found especially interesting and biting was on overpopulation and how Japan is so overpopulated many of her people are "literally tumbling into the sea." Yet they are worried that their declining birthrate means in the future they will have fewer workers to "produce,' and thus 'consume' whatever it is that's produced." The author then goes on to say, "Think about it. I suggest that this attitude signifies nothing so much as stark, staring madness. It is insane: suicidally, homicidally, ecocidally, homicidally insane."
The book is a deep dive into indigenous culture, beliefs, and their close relationship to nature and the environment. It is provocative, disturbing, and to the point. And the point is that humanity is "killing the natural world, and thus itself. It's no more complicated than that."
Phil Bellfy, PhD, is the Editor and Publisher of the Ziibi Press, Enrolled Member of the White Earth Band of Minnesota Chippewa, Co-Director of the Center for the Study of Indigenous Border Issues (CSIBI), and Professor Emeritus of American Indian Studies, Michigan State University. He has been involved in environmental issues, at the Tribal, international, national, state, and local levels for over 45 years. He is also a Lay Advocate, qualified and admitted to practice Tribal Law in the Courts of the Sault Ste. Marie Tribe of Chippewa Indians.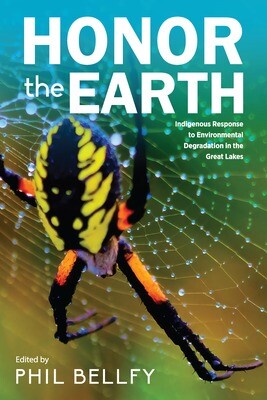 Honor the Earth
Indigenous Response to Environmental Degradation in the Great Lakes, 2nd Ed.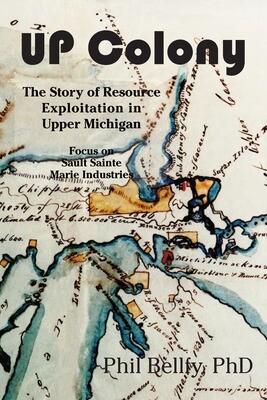 U.P. Colony
The Story of Resource Exploitation in Upper Michigan -- Focus on Sault Sainte Marie Industries