Today……I will be chatting with author, and artist Joanna Walitalo who will announce the details of her book giveaway of Woodburnings after the reading at the end of the interview.
When did you move to the UP? And are you a full-time Yooper?
Joanna Walitalo grew up in Oil City Michigan, taking art classes in middle school and high school. She attended Central Michigan University, where she earned a BS in Biology and Environmental Policies. From there, she moved to the Upper Peninsula of Michigan where she earned a Master's in Forestry at Michigan Technological University. She is currently finishing her Ph.D. in Forest Science at MTU and continues to live in the UP with her loving husband and son.
J Walitalo "Woodburnings, Highlights from the first five years" is a book of fine artwork done in pyrography. It captures the range of artwork that the Walitalo's have created, and promotes environmental ethics through the use of scrap wood as the platform for the artwork, as well as through the images they create. "Our goal is to help spread appreciation and love for our natural environment and wildlife by sharing the beauty of it through art."
Sponsored by Doc Chavent, The Lowell Ledger and Modern History Press.

Joanna Walitalo grew up in Oil City, MI, where she took art classes at Bullock Creek Schools taught by Mr. Matherne and Mr. Myers; both very talented artists, and teachers with endless patience. She earned a BS degree in Biology and Envi-ronmental Studies from Central Michigan University, and took art classes at the Midland Center for the Arts, where she had the opportunity to study under Armin Mersmann. While studying at CMU, she took art classes form Dietmar Krumrey II and Michael Volker. From there, she moved to the Upper Peninsula of Michigan where she earned a Master of Forestry at Michigan Technological University. A strong love of the outdoors, and wild places, has led her to incorporate her pas-sion for art with her professional education in order to bring the beauty of wildlife and wild places closer to the general public through scientifically accurate artwork. By far, the artist that influenced Joanna the most throughout her life has been her mom, Barb Rogers, who taught art at Coleman Middle School, MI, for many years, and always encouraged and guided Joanna to incorporate art into all her endeavors. Today, Joanna continues to live with her loving husband James, and son little James, in Michigan's Upper Peninsula, working as an artist and illustrator.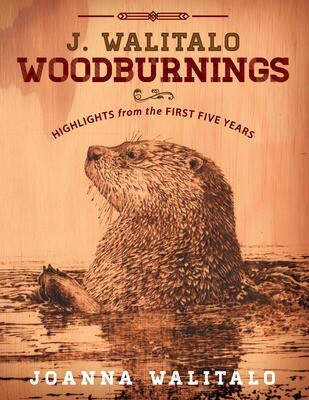 J. Walitalo Woodburning

: Highlights from the First Five Years